World Oceans Day 2022
World Oceans Day is held every year on June 8 to celebrate the bounty and importance of our wonderful oceans. For those of us on the Northwest Florida and Alabama coast, our part of the oceans is the magnificent Gulf of Mexico! The UN theme for World Oceans Day 2022 is "Revitalization: Collective Action for the Ocean." Support is also requested for the 30×30 project where 30% of the oceans and 30% of land is protected by 2030. Currently less than 17% of land and 8% of the oceans worldwide are protected.
Perdido Key's World Oceans Day celebration at the Perdido Key Visitors Center was a considerable success. Families, other groups and individuals enjoyed the many ocean-themed exhibits and discussions provided by participants. Activities included a touch-tank of mollusks and other animals found in local waters plus a visit by a tiny owl from the Wildlife Sanctuary of Northwest Florida. The event also featured the opening of the Perdido Key Coastal Demonstration Garden adjacent to the Visitors Center. Organized by the Perdido Key Area Chamber of Commerce, personnel from many local, state and federal organizations contributed to this year's World Oceans Day event.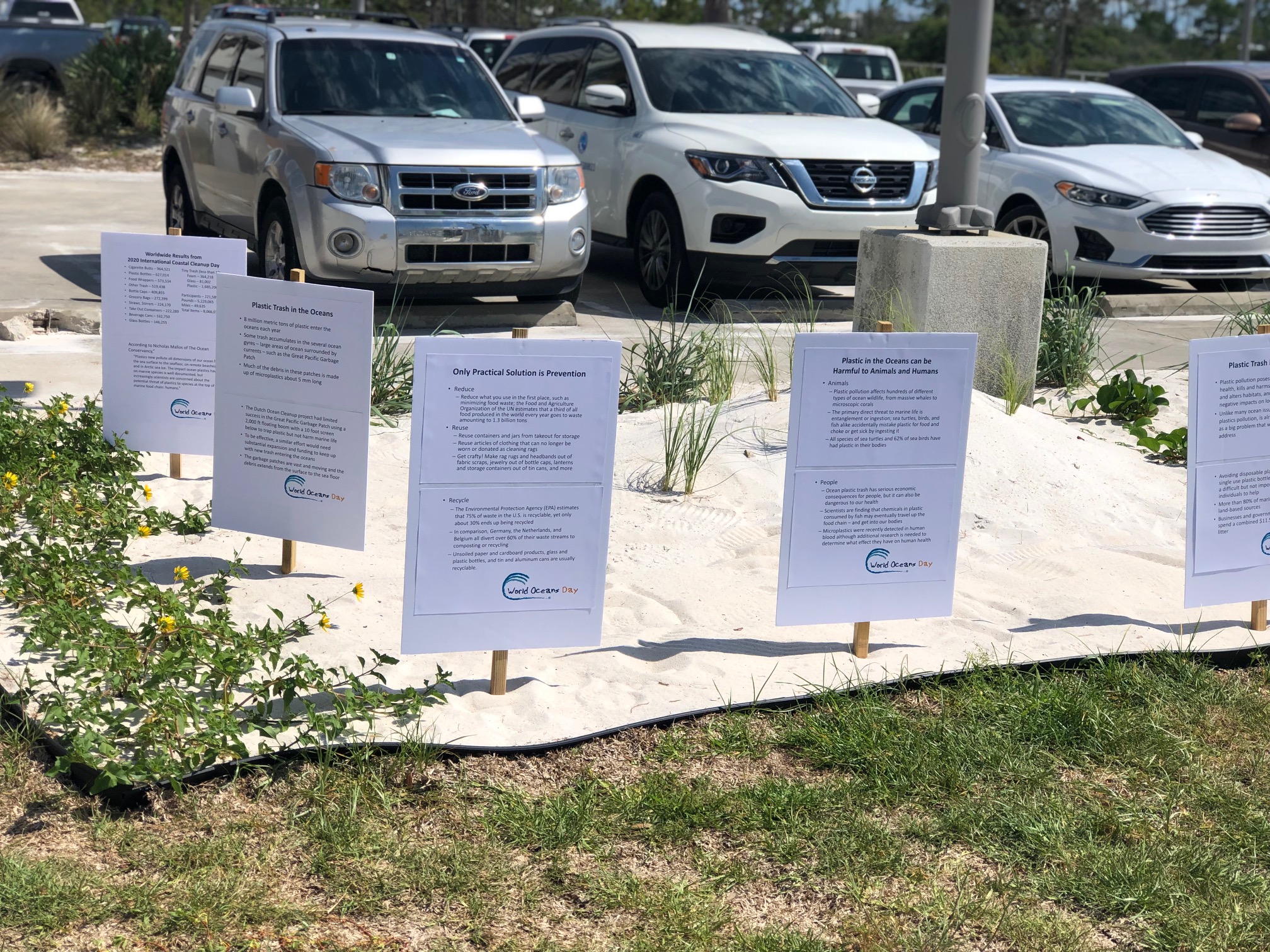 Joe Gilchrist
Perdido Key and the entire Gulf Coast lost a good friend on May 26, 2022 when Joe Gilchrist passed away. Mr. Gilchrist was a co-owner of the Flora-Bama and tireless advocate for local musicians. PKA was privileged when he attended its December 2022 Holiday Party at the Seafarer Condominium. Here is a portion of a tribute to Joe from the Perdido Key Area Chamber of Commerce: "In addition to putting Perdido Key on the map by making the Flora-Bama 'World Famous' – Joe was the founder of the Frank Brown International Songwriters Festival, the original and longest-running songwriter's festival in the nation. Joe was a visionary who believed in dreaming big and then doing whatever it took to bring a dream to reality. Joe's long record of philanthropic generosity benefitted countless non-profit organizations and he was always willing to give anyone a hand up. His support for the military was heartfelt and boundless." 
Rosamond Johnson Day Celebration
Rosamond Johnson Day was celebrated on Saturday, May 7, 2022 along Johnson Beach – the beach named for Private Johnson at the Perdido Key Area of Gulf Islands National Seashore. The event featured compelling deliveries by speakers Eugene Franklin of the Florida Black Chamber of Commerce, Darrel Echols Superintendent of Gulf Islands National Seashore, David Alexander Retired Police Chief of the Pensacola Police Department, reflections on past celebrations by Alison Davenport and Eugene Franklin, plus Private Johnson's niece Pam Johnson-Green. There was also a wonderful rendition of the Star-Spangled Banner by Mary Lou Sanford Tolbert, inspirational performance of "The Watch" by Steve Wilmer and placement of a wreath at the Rosamond Johnson Memorial.
Weather Station at Visitors Center
A remote weather monitoring station was recently installed just east of the Perdido Key Visitors Center as part of the Escambia County Weather Stem System. This state-of-the-art equipment provides real time weather information 24/7 and can be accessed at https://escambia.weatherstem.com/fswnperdidokey.
NAS Pensacola Compatible Use Study Begins
The NAS Pensacola Compatible Use Study began with a public meeting on June 13, 2022 at the Escambia County Central Office Complex. A number of displays, slides and handouts helped explain the impact NAS Pensacola has on Escambia County and surrounding areas. The study will continue for several months and welcomes public input. As published by Escambia County:
 "The Compatible Use Study is a collaborative planning effort between Escambia County, the City of Pensacola, the City of Gulf Breeze, state and federal agencies, the general public, and other interested and affected stakeholders. Its purpose is to address land use and other activities incompatible with NAS Pensacola's mission and effective environmental stewardship while fostering community growth and economic vitality. Planning efforts will directly benefit the community and NAS Pensacola through several measures, including enhancing resiliency and preserving environmentally sensitive lands and natural resources, improving communication and coordination between NAS Pensacola and community leaders for planning efforts and partnerships, and protecting the health and safety of area residents and workers."
Golf Carts on Perdido Key
An emerging pedestrian and traffic safety issues on Perdido Key as well as other nearby communities is growing use of golf carts and similar vehicles by individuals and organizations. While useful and fun, integrating golf carts with vehicular traffic, cyclists and pedestrians is challenging and potentially hazardous. Golf cart/LSV (low-speed vehicles) and ATV use on Perdido Key is regulated by Florida Statues but can be confusing. PKA has attempted to clarify where use is or is not authorized in a paper titled "Golf Carts on Perdido Key 2022" posted on the Archive page of the PKA website. While PKA believes the paper is accurate, it is not authoritative so comments for its improvement are appreciated.
Sorrento Road and Bauer Intersection Upgrade
Construction crews have begun a $4.4 million project to "mill and resurface a 2.4 mile segment of Sorrento Road" south of the Bauer Road intersection as well as resurfacing and improving the intersection itself. 5-foot paved shoulders, drainage and sidewalk improvements plus other work are also scheduled. Completion of the project is likely in early 2023. For more information, go to the May 26, 2022 Escambia County/FDOT news release "Sorrento Road Resurfacing and Bauer Road Intersection Improvement Projects Set to Begin" at https://patch.com/florida/pensacola/escambia-county-government-fdot-sorrento-road-resurfacing-bauer-r-nodx-20220526.
Gulf State Park Pier Repair Delayed
Because Alabama's Gulf State Park Pier repair will cost $12 million – much higher than anticipated – repairs to the pier's damaged pilings and 210-foot breach from Hurricane Sally in 2020 are on hold while State Park officials look for options to move forward. The serviceable portion of the pier will remain open to the public pending decisions on repair work. For more on the issue, see the May 09, 2022 OBA Website article "Gulf State Park Pier repair is on hold due to cost increases" at https://www.obawebsite.com/gulf-state-park-pier-repair-is-on-hold-due-to-cost-increases.
Turtle Nesting Season Begins
Turtle nesting season in the Pensacola area is May through September, a good time to take special care along Perdido Key beaches. "Four of the six species of sea turtles found in U.S. waters make an annual pilgrimage to our beaches during the nesting season. Loggerhead sea turtles are the most common, accounting for over 90 percent of all sea turtle nests in Escambia County. Green, leatherback, and Kemp's ridley sea turtles also nest on area beaches." Precautions to help nesting turtles include turning out beachfront lights after dusk, closing blinds and curtains on beachfront rooms, not disturbing sea turtles with flashlights, flash photography or lanterns at night, and filling holes in the sand at days end. For more information, go to Escambia County entries at https://myescambia.com/our-services/natural-resources-management/marine-resources/sea-turtles and https://myescambia.com/search?indexCatalogue=indexdefault&searchQuery=Sea%20Turtles&wordsMode=AllWords.
Photo Credit: Kemp's ridley sea turtle – NPS photo
NCAA Beach Volleyball Tournament at Gulf Shores
During May 4-8, 2022 spectators at the women's NCAA Beach Volleyball Championship in Gulf Shores were treated to several days a great competition. In the end, teams from the University of Southern California bested a strong Florida State University contingent in the final matches for the title.
History of Oysters in Perdido Bay
As part of its historical ecology lecture series, the University of West Florida presented the topic "Uncovering the Lost History of Oysters in Perdido Bay" on May 3, 2022 at the Perdido Bay United Methodist Church. While research continues, a conclusion seems to be that oysters were in Perdido Bay in years past but can no longer be found there. The audience participation portion of the program featured comments by Jackie Lane of the Friend of Perdido Bay who spoke of the damage continuing from paper mill effluent making its way into Perdido Bay. For more on water quality in Perdido Bay, go to the December 3, 2019 Pensacola News Journal article "Is Perdido Bay in peril? Is it too late to protect it? by Kevin Robinson at https://www.pnj.com/story/news/2019/11/18/perdido-bay-water-quality-issues-spark-debate-but-what-does-data-say/2470708001/.
Hurricane Prep Workshop
On May 10, 2022, Escambia County Emergency Management personnel provided an informative brief on preparations for the coming hurricane season at the Perdido Key Visitors Center. A new "Disaster Guide" was being prepared and will be ready for distribution in the coming weeks. Because of the deteriorated world situation, a disturbing addition to County preparations was renewed concerns for radioactive fallout.
More on the Visitors Center Windmill
A solar and wind powered rest area are part of the Perdido Key Coastal Demonstration Garden taking shape next to the Perdido Key Visitors Center. Cyclists and others can charge their mobile phones while taking a break on the windmill's benches. Unlike large wind turbines, the Primo Energy Wind System windmill is designed to appear as a solid surface when operating so birds and other flying animals will not fly into the fan assembly. The unit was purchased primarily with District 2 Discretionary Funds and at a significant discount to provide a positive environmental impact for Perdido Key residents and visitors.
Mother Goose
Mother's Day 2022 found this family of geese enjoying a swim on one of the Lost Key Golf Course ponds. One hopes they are aware of the 'gators!
Perdido Key Drive/Johnson Beach Road Roundabout Approved
At its April 7, 2022 meeting the Escambia County Board of County Commissioners voted 4 to 1 to add $500,000 to the $850,000 already committed to construct the Perdido Key Drive/Johnson Beach Road roundabout. The additional $500,000 was pledged by District 2 Commissioner Doug Underhill from District 2 Discretionary Funds, the same source as the $850,000 originally pledged for the project. A contract will presumably be signed shortly with construction to begin in August 2022.
Perdido Key Path and Park Update
Perdido Key Multi-Use Path – Two miles of the Perdido Key Multi-Use Path are completed along the north side of Perdido Key Drive from the west end of Perdido Key State Park to the Alabama border. Design and engineering for the remaining four miles from the west end of the Park to the Theo Baars Bridge is completed and $4.5 million of RESTORE funding (BP oil spill penalty money) awarded for the project, but final distribution of the funds from the US Treasury must occur before contracts can be awarded and construction begins. This should take place later this year with project competition likely in 2023. Final plans have the path passing along Theo Baars Bridge to connect with the River Road path (which will hopefully be upgraded at some point). Design for the recently approved roundabout at the Perdido Key Drive/Johnson Beach Road intersection have taken the Perdido Key Multi-Use Path into account since future users may want to cross Perdido Key Drive to reach the Johnson Beach Road path.
Perdido Key State Park – The West Use Area of Perdido Key State Park is open for use as is the Sharps Reef access west of the Visitors Center. The East Use Area and park access across from the Perdido Key Visitors Center remain closed because of severe damage to their dune crossover boardwalks and – for the East Use Area – other facilities from Hurricane Sally in September 2020. Unlike the West Use Area of the Park where emergency repairs were made so visitors could safely access the beach, the facilities at the East Use Area and near the Visitors Center were too heavily damaged for emergency repairs and must be replaced. Reconstruction is not likely to happen until early 2023 because of Florida State Park funding priority and contract issues.
Perdido Key Area – Gulf Islands National Seashore (Johnson Beach) – The main parking area at the pavilion near the park entrance is open, but parking along Johnson Beach Road is allowed for only a short portion of the road near its east end. Plans are in place to construct three off-road parking lots and associated over-dune boardwalks to the Gulf of Mexico and Big Lagoon to replace roadside parking; along with other park projects, the parking lots and boardwalks will be funded by a $3.2 million RESTORE grant. Park officials are currently working with funding officials on project permits and fund transference to the National Park Service. Construction should begin after the 2022 bird nesting season and the project completed by early 2023.
New Perdido Key Crosswalk
Escambia County recently constructed a new crosswalk just west of Perdido Key State Park between the Eden and Seaspray condominiums on the south side of Perdido Key Drive and the Surf Style beach store on the north side. The new installation has pedestrian operated flashing lights like the other crosswalks on Perdido Key Drive.
A Great Holiday Party!
Perdido Key Association members, relatives and friends had a wonderful time at the annual PKA Holiday Party on December 13, 2021 at the Seafarer Condominium meeting room. Ample beverage and food were on hand and as usual all enjoyed Alan Dennis' marvelous meatballs. With the camaraderie of old and new acquaintances, the party had a wealth of holiday good cheer.
Successful Cleanup of Perdido Key Beaches!
International Coastal Cleanup at Perdido Key State Park was a big success despite rainfall during half the cleanup period. Almost 30 volunteers gathered multiple bags of trash and other debris to help keep Perdido Key beaches from the Perdido Key Area of Gulf Islands National Seashore to the Alabama border clean and safe. The annual event was organized by the Perdido Key Association, Friends of Pensacola State Parks, and local Florida State Park officials; sponsors Flora-Bama, The Perdido Key Sports Bar & Restaurant, and Vacasa vacation rentals helped fund the souvenir t-shirts distributed to participants.
2022 PKA Annual Membership Meeting
The Perdido Key Association held its Annual Membership Meeting on February 19, 2022 at the Eden Condominium. Guest speaker Tim Day, Escambia County's Senior Natural Resources Manager, covered a variety of issues affecting Perdido Key including County efforts to acquire additional public beachfront parking and access, completion of Beach Access #4, resurfacing Beach Access' #2 & 3 parking areas and the status of the Perdido Key Master Plan. He noted construction of the roundabout at the Perdido Key Drive/Johnson Beach Road intersection was on track for completion by the beginning of tourist season, but the east portion of the Perdido Key Multi-Use Path might be delayed pending RESTORE funding approval by the US Treasury. He discussed the Perdido Key beach mouse and how the Perdido Key Habitat Conservation Plan balanced environmental protection with reduced time for construction permit approval. He also fielded questions from attendees including concerns about Perdido Key's shift from District 2 to District 1. Mr. Day's presentation was exceptionally informative and much appreciated – his PowerPoint slides are available on the Archive page of the PKA website.
PKA President Charles Krupnick then discussed PKA activities during 2021 including membership and survey initiatives, PKA participation in World Oceans Day activities and International Coastal Cleanup Day at Perdido Key State Park. He noted progress toward creation of "Preservation Park" with the installed solar windmill and Coastal Demonstration Garden along the Perdido Key Multi-Use Path, but also concern for golf cart use on the Path. With the installation of concrete utility poles, he still hoped for progress toward underground utilities on Perdido Key. Charles was concerned over the lack of damage repair progress from Hurricane Sally at Perdido Key State Park and Gulf Islands National Seashore (Johnson Beach) adding to challenges for beach parking and access in the coming tourist season. About thirty people attended the meeting in person and a similar number on YouTube.