Perdido Area Town Hall Meeting Tuesday October 25
District 1 Commissioner Jeff Bergosh will hold a Town Hall meeting from 6 to 8 PM on Tuesday, October 25, 2022 at the gymnasium of the Perdido Bay United Methodist Church, 13660 Innerarity Point Road. Among the topics to be covered will be the apartment complex being built just north of Theo Baars Bridge discussed in the following entry.
Innerarity Apartment Development
Many residents of Innerarity Point and Perdido Key were surprised when land was cleared at the north end of the Theo Baars Bridge for a massive apartment complex. From the Escambia County's "Development Order Details" web page, the 13450 Perdido Key Drive site was approved for development in January 2022 as follows (partial quotation):
Construction of a multi-family apartment complex providing 325 dwelling units within 12 buildings on a 28.07-acre parcel. The complex will include a separate leasing office, clubhouse, and maintenance building, and two garages. Site development will provide paved parking, a graveled area for tenant RV and boat storage, and one paved access each to Canal Dr. and Monterey Ave.
The complex of 3-4 story buildings will be named "Altura" and is being developed by Kore/Amplo. No information has been found on Escambia County plans to improve the hazardous Perdido Key Drive/Canal Rd intersection likely to be used by residents of the new apartments. For more on the project, go to https://myescambia.com/our-services/development-services/development-orders/details/perdido-key-drive-multi-family; for a partial rendering of the 3-4 story apartment units, go to the Amplo website at https://www.amplocapital.com/projects.
International Coastal Cleanup Day 2022!
On a beautiful September 17th, about 25 volunteers participated in a cleanup of Perdido Key beaches sponsored by the Perdido Key Association and Florida State Parks and supported by the Friends of Pensacola State Parks, Perdido Rotary Club and Perdido Key Chamber Foundation. The event was part of local celebrations of International Coastal Cleanup Day – a worldwide event for the past 35 years now held in over 150 countries. Trash collected during the event was deposited in a container provided by ECUA.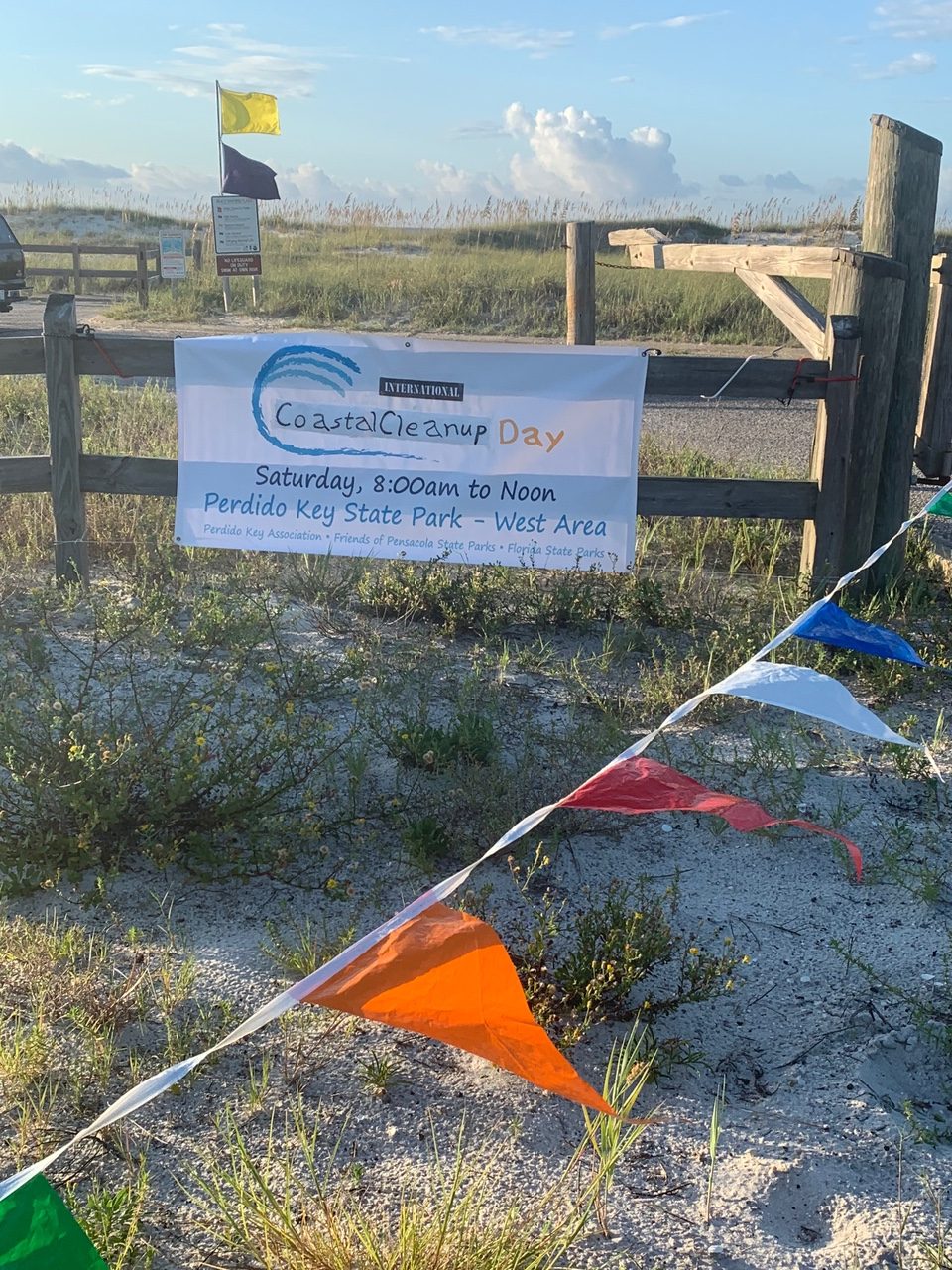 When to Vote 2022
As found in the AARP Bulletin September 2022, voting dates for this year's election follow:
Tuesday, October 11 – Deadline to register
Deadline for receipt of vote-by-mail ballot requests – Saturday, October 29
Early Voting – Varies by Florida county; still undetermined for Escambia County
Election Day – Tuesday, November 8 from 7 AM to 7 PM
Fall Tune-Up at Perdido Key Demonstration Garden
Escambia County is planning a "Garden Party" for October 14, 2022 to prune, weed, and get the Perdido Key Demonstration Garden at the Visitors Center (14500 Perdido Key Drive) in shape for fall. To help, please sign up for one of the 30 spots available at https://perdidokeygardenparty.eventbrite.com. 
Photo credit NOAA Fisheries
Infrastructure Updates
Sorrento Road – At its August 8, 2022 meeting the Florida-Alabama Transportation Planning Organization (TPO) raised the priority for widening Sorrento Road from 19 to 8, meaning it "will be eligible to receive state funding more quickly from FDOT in the next budget cycle." District 1 Commissioner Jeff Bergosh told TPO members "the Sorrento project is a critical public safety issue." Mike Kohler who will replace Doug Underhill as District 2 Commissioner has stated he would prioritize the expansion of Gulf Beach Highway and Sorrento Road. Work continues to resurface Sorrento Road south of the Bauer Road intersection. For more on the issue, see the August 10, 2022 13, 2022 Pensacola News Journal article "Sorrento Road widening now a top priority; Milton U.S. 90 widening stays the course" by Jim Little at https://www.pnj.com/story/news/local/santa-rosa/2022/08/10/sorrento-road-widening-moves-up-tpo-state-road-project-priority-list/10285418002 and the August 23, 2022 Pensacola News Journal article "Mike Kohler takes Escambia County District 2 Commission seat with Primary Win" by Benjamin Johnson at https://www.pnj.com/story/news/politics/elections/2022/08/23/mike-kohler-wins-escambia-county-commission-district-2-seat-primary-election-doug-underhill-seat/10349149002/.
Perdido Key Drive/Johnson Beach Road Roundabout – The Escambia County Board of County Commissioners (BOCC) committed $1.35 million to construct the Perdido Key Drive/Johnson Beach Road roundabout. Construction will begin in early-September 2022.
Perdido Key Multi-Use Path – At its August 4, 2022 BOCC meeting, the BOCC approved an easement at the Johnson Beach Road/Perdido Key Drive intersection needed to connect the Johnson Beach Road path to a road crossover joining the Perdido Key Multi-Use Path. The easement was required because of the roundabout to be constructed at the intersection. Design and engineering for the Path from the west end of Perdido Key State Park to the Theo Baars Bridge is completed and $4.5 million of RESTORE funding has been received to complete the project. Construction will begin in November 2022.
Perdido Key State Park – Reconstruction of the Park's East and West Use Areas from Hurricane Sally damage is unlikely before 2023 in part because of delays related to excessive sand accretion at dune crossover locations. Until then, emergency repairs allow access to the West Use Area and Sharps Reef beach access locations.
Big Lagoon State Park – The main road on Big Lagoon State Park has been repaved removing the many potholes of recent experience, though additional work is required to complete the project. The governor's pavilion, amphitheater and other areas beyond the boat ramp remain closed pending repairs from Hurricane Sally with construction hopefully to begin within a few months. Volunteers are helping repaint picnic pavilions in the boat launch area.
Tico the Brazilian Manatee
While Florida's manatees are struggling to survive with reduced food supplies, we are encouraged by following the 2500-mile journey of Tico – a rescued Brazilian manatee. For his great adventure, read the September 6, 2022 BBC article "Tracking Tico: Manatee rescued after frantic search" by Anselm Gibbs at https://www.bbc.com/news/world-latin-america-62792026.
Manatee Internship
The panhandlemanatee.org program is seeking an intern to assist with our area's manatee project through the winter of 2022. It requires 10-15 hours per week and is a paid position through the National Wildlife Federation. For more information, e-mail bibzaj@nwf.org. Drawn from September 16 Sea Grant Notes by Rick O'Connor.
Progress at Portico Condo
Construction of the Portico at Perdido condominium appears to be proceeding apace. The building is located on the Gulf side of Perdido Key Drive near the River Road intersection.
November 7 Red, White and Birdies Golf Scramble
The Perdido Key Chamber of Commerce is sponsoring the Red, White and Birdies Golf Scramble on November 7, 2022 at the A.C. Reed golf course on NAS Pensacola. The event will help fund the 2023 "Star Spangle Salute to the Troops" festival held on Armed Forces Day. Non-military players will need to fill out a security form in advance to participate. For more information, go to https://business.perdidochamber.com/events/details/2022-red-white-and-birdies-golf-scramble-33438.
Tracking Snakes
Escambia County's Sea Grant representative Rick O'Connor has been tracking snake sightings in our area. There have been quite a variety, including cottonmouth and eastern coachwhip at Big Lagoon State Park, corn snake and pygmy rattlesnake at Tarkiln Bayou, and southern black racer at Lost Key. The tally so far is 17 of the 40 species found locally. Many other snakes have certainly been seen, so if interested in reporting a sighting please contact Rick O'Connor at roc1@ufl.edu.
Releasing Reef Fish
With artificial reefs in Gulf of Mexico waters 100 feet or so deep, fish caught at the reefs can suffer from barotrauma and if released their expanded swim bladder and stomach can hinder a return to depth. Procedures and equipment to improve their chances of survival are discussed in the July 7, 2022 Outdoor Alabama article "Return 'Em Right Targets Survival of Released Fish" by David Rainer at https://returnemright.org/2022/07/07/return-em-right-targets-survival-of-released-fish/.
NAS Pensacola Compatible Use Study Begins
The NAS Pensacola Compatible Use Study began with a public meeting on June 13, 2022 at the Escambia County Central Office Complex. A number of displays, slides and handouts helped explain the impact NAS Pensacola has on Escambia County and surrounding areas. The study will continue for several months and welcomes public input. As published by Escambia County:
 "The Compatible Use Study is a collaborative planning effort between Escambia County, the City of Pensacola, the City of Gulf Breeze, state and federal agencies, the general public, and other interested and affected stakeholders. Its purpose is to address land use and other activities incompatible with NAS Pensacola's mission and effective environmental stewardship while fostering community growth and economic vitality. Planning efforts will directly benefit the community and NAS Pensacola through several measures, including enhancing resiliency and preserving environmentally sensitive lands and natural resources, improving communication and coordination between NAS Pensacola and community leaders for planning efforts and partnerships, and protecting the health and safety of area residents and workers."
ECUA Recycling Facility Closed for Repairs
The ECUA Recycling Facility will be closed for repairs until mid-August 2022 with supply chain issues delaying its reopening. ECUA will continue normal recycling collections, but materials will not be recycled. For more on the issue, see the June 17, 2022 NorthEscambia.com article "ECUA Shuts Down Recycling Center, Awaiting Repair Parts" at http://www.northescambia.com/2022/06/ecua-shuts-down-recycling-center-awaiting-repair-parts.
Golf Carts on Perdido Key
An emerging pedestrian and traffic safety issues on Perdido Key as well as other nearby communities is growing use of golf carts and similar vehicles by individuals and organizations. While useful and fun, integrating golf carts with vehicular traffic, cyclists and pedestrians is challenging and potentially hazardous. Golf cart/LSV (low-speed vehicles) and ATV use on Perdido Key is regulated by Florida Statues but can be confusing. PKA has attempted to clarify where use is or is not authorized in a paper titled "Golf Carts on Perdido Key 2022" posted on the Archive page of the PKA website. While PKA believes the paper is accurate, it is not authoritative so comments for its improvement are appreciated.
A Great Holiday Party!
Perdido Key Association members, relatives and friends had a wonderful time at the annual PKA Holiday Party on December 13, 2021 at the Seafarer Condominium meeting room. Ample beverage and food were on hand and as usual all enjoyed Alan Dennis' marvelous meatballs. With the camaraderie of old and new acquaintances, the party had a wealth of holiday good cheer.
Successful Cleanup of Perdido Key Beaches!
International Coastal Cleanup at Perdido Key State Park was a big success despite rainfall during half the cleanup period. Almost 30 volunteers gathered multiple bags of trash and other debris to help keep Perdido Key beaches from the Perdido Key Area of Gulf Islands National Seashore to the Alabama border clean and safe. The annual event was organized by the Perdido Key Association, Friends of Pensacola State Parks, and local Florida State Park officials; sponsors Flora-Bama, The Perdido Key Sports Bar & Restaurant, and Vacasa vacation rentals helped fund the souvenir t-shirts distributed to participants.
2022 PKA Annual Membership Meeting
The Perdido Key Association held its Annual Membership Meeting on February 19, 2022 at the Eden Condominium. Guest speaker Tim Day, Escambia County's Senior Natural Resources Manager, covered a variety of issues affecting Perdido Key including County efforts to acquire additional public beachfront parking and access, completion of Beach Access #4, resurfacing Beach Access' #2 & 3 parking areas and the status of the Perdido Key Master Plan. He noted construction of the roundabout at the Perdido Key Drive/Johnson Beach Road intersection was on track for completion by the beginning of tourist season, but the east portion of the Perdido Key Multi-Use Path might be delayed pending RESTORE funding approval by the US Treasury. He discussed the Perdido Key beach mouse and how the Perdido Key Habitat Conservation Plan balanced environmental protection with reduced time for construction permit approval. He also fielded questions from attendees including concerns about Perdido Key's shift from District 2 to District 1. Mr. Day's presentation was exceptionally informative and much appreciated – his PowerPoint slides are available on the Archive page of the PKA website.
PKA President Charles Krupnick then discussed PKA activities during 2021 including membership and survey initiatives, PKA participation in World Oceans Day activities and International Coastal Cleanup Day at Perdido Key State Park. He noted progress toward creation of "Preservation Park" with the installed solar windmill and Coastal Demonstration Garden along the Perdido Key Multi-Use Path, but also concern for golf cart use on the Path. With the installation of concrete utility poles, he still hoped for progress toward underground utilities on Perdido Key. Charles was concerned over the lack of damage repair progress from Hurricane Sally at Perdido Key State Park and Gulf Islands National Seashore (Johnson Beach) adding to challenges for beach parking and access in the coming tourist season. About thirty people attended the meeting in person and a similar number on YouTube.
World Oceans Day 2022
World Oceans Day is held every year on June 8 to celebrate the bounty and importance of our wonderful oceans. For those of us on the Northwest Florida and Alabama coast, our part of the oceans is the magnificent Gulf of Mexico! The UN theme for World Oceans Day 2022 is "Revitalization: Collective Action for the Ocean." Support is also requested for the 30×30 project where 30% of the oceans and 30% of land is protected by 2030. Currently less than 17% of land and 8% of the oceans worldwide are protected.
Perdido Key's World Oceans Day celebration at the Perdido Key Visitors Center was a considerable success. Families, other groups and individuals enjoyed the many ocean-themed exhibits and discussions provided by participants. Activities included a touch-tank of mollusks and other animals found in local waters plus a visit by a tiny owl from the Wildlife Sanctuary of Northwest Florida. The event also featured the opening of the Perdido Key Coastal Demonstration Garden adjacent to the Visitors Center. Organized by the Perdido Key Area Chamber of Commerce, personnel from many local, state and federal organizations contributed to this year's World Oceans Day event.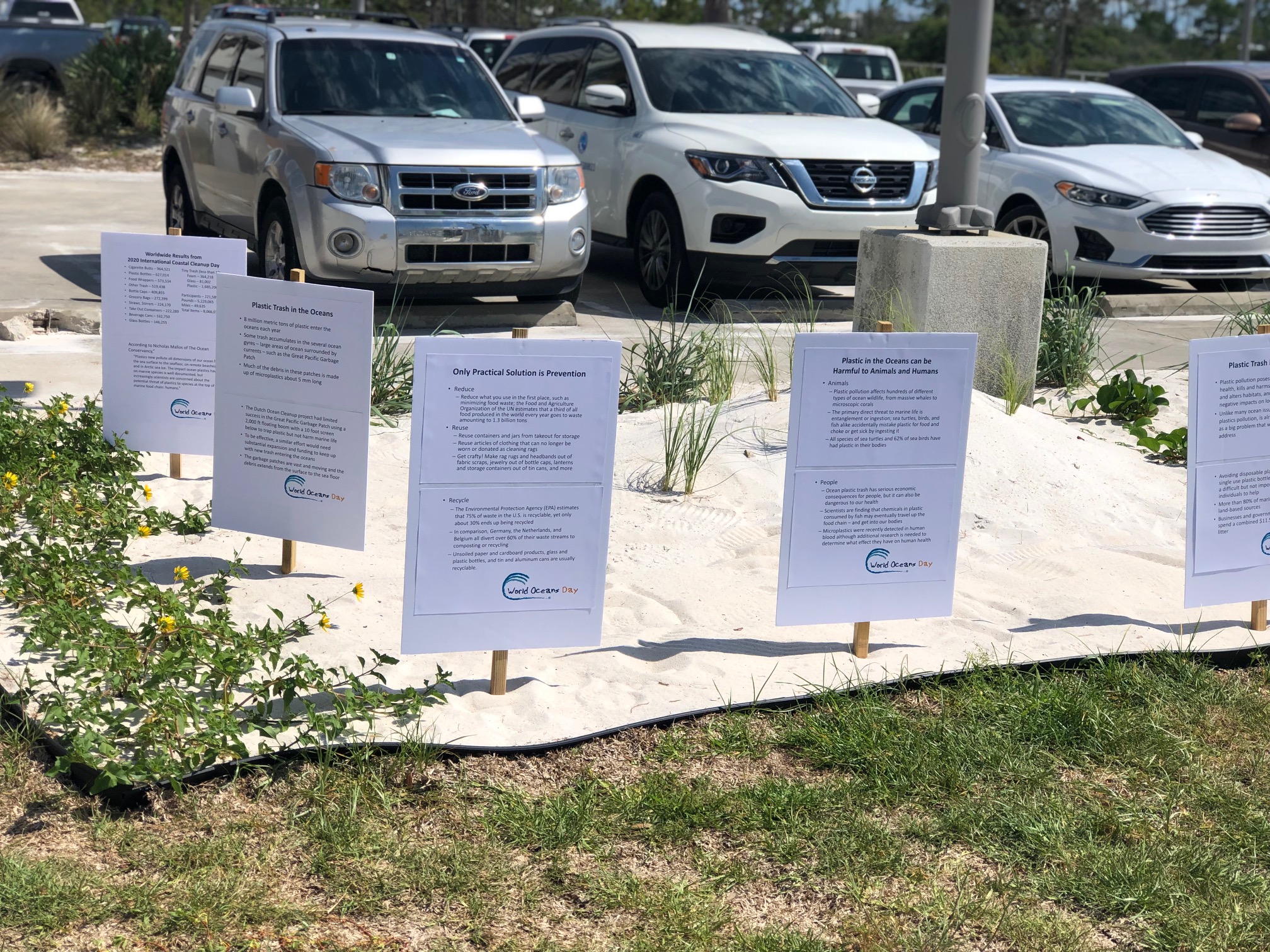 Three Ospreys!
From their nest overlooking the Old River, three ospreys – probably parents with their maturing offspring – are seen enjoying afternoon sun and breezes.
Fish Farms in the Gulf?
Industrial-scale fish farms are being proposed for the Gulf of Mexico including the Pensacola area. According to environmental activist Christian Wagley, they could result in excessive nutrients in Gulf waters potentially leading to more red tide outbreaks plus the potential for disease from the farms spreading to the wild, among other concerns. There is, however, a federal government initiative promoting new aquaculture projects. For more on the issue, see the July 20, 2022 Pensacola News Journal article "Pensacola may get one of Florida's first offshore fish farms, and some are already worried" by Colin Warren-Hicks at https://www.pnj.com/story/news/2022/07/20/manna-fish-farms-seeking-open-gulf-mexico-farm-near-pensacola/10051025002/.
Oceans "Global Emergency"
The five-day UN Ocean Conference in Lisbon ended with a declaration stating delegates were "'deeply alarmed by the global emergency facing the ocean, whose sustainability is 'critical' for the planet." Threats to the ocean include global warming, pollution and acidification, but despite 10 years of talks a "Biodiversity Beyond National Jurisdiction" agreement (also called the "Treaty of the High Seas") has yet to be approved. For more on the issue, see the July 1, 2022 US News and World Report article "UN Talks Urge Faster Steps to Secure Critical Ocean Health" at https://www.usnews.com/news/news/articles/2022-07-01/un-talks-urge-faster-steps-to-secure-critical-ocean-health.
Tragic Whale Death from Plastics
Plastics in the oceans can be catastrophic to some of the ocean's mightiest creatures. In May 2022, a 47-foot sperm whale died near Key West, Florida. "A necropsy revealed a tangled mass of plastic bags, fishing line and tattered fishing nets had blocked the whales' stomach, preventing it from absorbing nutrients. The knotted mass of plastic debris caused the whale to starve to death." Drawn from the July 29, 2022 Ocean Conservancy e-mail article "Plastic pollution is killing marine life" by Ingrid Giskes.
Whale Shark Day
August 30 was International Whale Shark Day. Whale sharks are the world's largest fish and sometimes visit our area. As filter feeders they harvest plankton, fish eggs and small marine creatures but unfortunately can also ingest plastic particles, just another reason to help prevent plastics and other pollutants from contaminating our wonderful oceans. Drawn from an August 29, 2022 Ocean Conservancy e-mail by Nick Mallos.
Photo Credit Ryan Eckert/NOAA
Wilson Plover
For the first time in a good while, a threatened Wilson Plover successful nested at Perdido Key State Park.