Become a PKA Director!
The PKA Board of Directors is looking for candidates for the Board. All PKA members are eligible to become Directors even if only part-time Perdido Key residents since Board meetings are always teleconferenced. Please contact any current Director prior to December 31, 2022 if interested.
PKA Annual Membership Meeting Saturday February 25, 2023
Please plan to attend the PKA Annual Membership Meeting to be held from 10 AM until Noon on Saturday, February 25, 2023, at the Eden Condominium located at 16281 Perdido Key Drive. Both in person and Zoom participation are anticipated; the guest speaker is to be determined. Selection of PKA Directors will occur at the meeting; a ballot listing the candidates, along with voter proxies and information about the meeting, will be sent to PKA members approximately 30 days prior to the meeting.
Hurricanes Devastate Florida and Elsewhere
The previously quiet 2022 hurricane season came to a fearsome end. In late September, Hurricane Ian caused unimaginable damage to Southwest Florida with a death toll of over 100; whole neighborhoods in Ft. Myers Beach, Sanibel Island and elsewhere were virtually wiped out by storm surge as high as seven feet and 155 knot winds. The devastation continued across the state through Central Florida where double-digit rainfall flooded many areas and into the Daytona Beach area where Atlantic storm surge caused major damage. Ian also caused substantial destruction with casualties in Cuba prior to making landfall in Florida and in the Carolina's and Virginia after leaving the state. This all followed earlier devastation in Puerto Rico from Hurricane Fiona. But hurricane season was not done. In early October Hurricane Julia arrived in Central America with torrential rains and causing substantial loss of life. Then a rare November tropical storm, Hurricane Nicole, caused more damage to Central Florida areas already devastated by Ian. To help victims of the disaster, the Salvation Army and Red Cross are among the appropriate organizations to support; for a detailed look at charitable efforts, see the Ft. Myers News-Press October 3, 2022 article "Give, get help: Where to offer time, money, food and other supplies for Hurricane Ian victims" by Erica Van Buren, Harriet Howard Heithause and Dave Osborn at https://www.news-press.com/story/weather/hurricane/2022/10/03/hurricane-ian-how-help-victims-money-time-food-supplies-lee-county-fort-myers-cape-coral-sanibel/8166121001/.
Commissioner Bergosh October 25 Town Meeting
Escambia County District 1 Commissioner Jeff Bergosh held a Town Hall meeting at the Perdido Bay United Methodist Church the evening of October 25, 2022. The church gymnasium was filled close to capacity with approximately 250 attendees. Speakers and those attending discussed several issues in the Perdido area, but the main topic was construction of the Altura apartment complex in Innerarity that has created concerns for traffic safety, congestion and change in the character of the area (for more information on Altura Apartments, see the News page entry "Innerarity Apartment Development"). A developer representative noted 1, 2 and 3 bedroom apartments would be available with many amenities offered and rent in the range of $2000 monthly. He mentioned that many more units than the 325 planned could be developed on the property, the minimum rental period would be 7 months and once completed the units should generate $700,000 in taxes annually. The Escambia County Transportation Engineer Chris Phillips indicated traffic studies showed no substantial alteration to current roadways was required because of the new development, a conclusion challenged by a number of attendees. Since Escambia County does not have concurrency or impact fees, the developer would not be required to provide improvements in any case. Commissioner Bergosh stated all proper procedures were followed in allowing the construction but that he believed notification of neighborhoods should be added to requirements when large apartment complexes were involved. There was also some discussion on the efficacy of the roundabout being constructed at the Perdido Key Drive/Johnson Beach Road intersection and traffic safety during its construction (scheduled for completion March 2023). Other speakers included an ECUA representative who, among other issues, updated attendees on recycling and mentioned the elevated level of contamination in local recycling – i.e., non-recyclable material included in recycling bins. District 1 School Commissioner Kevin Adams noted the difficulties being encountered finding a firm to take over Warrington Middle School as a charter school. If a firm cannot be found, the school will be closed and its students bussed to other County middle schools, including Bailey Middle School on Bauer Road. He also mentioned the shortage of school bus drivers in the County. Escambia County Sheriff Chip Simmons made comments about violence in the County, noting it was not gang related, and that the Sheriff's Office was currently 100% staffed. Commissioner Bergosh concluded the Town Meeting by answering all written and verbal questions provided by attendees, extending the meeting well beyond its scheduled two hours.
Hurricane Cone Controversy
What is the weather map "hurricane cone" all about? It is the probable track of a tropical storm but is not the limit of the storm's potential damage. According to some experts, as Hurricane Ian approached the Florida coast, "too many people misunderstood the graphics, including local and state officials." Providing a useful graphic for public information continues to be a challenge for the National Hurricane Center. For more on the issue, see the October 19, 2022 USA Today article "Many people misunderstand this famous hurricane forecast graphic. It can be a deadly mistake." by Dian Voyles Pulver and Doyle Rice at https://www.usatoday.com/story/news/2022/10/19/hurricane-ian-new-criticism-for-the-cone-of-uncertainty/10529838002/.
Innerarity Apartment Development
Many residents of Innerarity Point and Perdido Key were surprised when land was cleared at the north end of the Theo Baars Bridge for a massive apartment complex. From the Escambia County's "Development Order Details" web page, the 13450 Perdido Key Drive site was approved for development in January 2022 as follows (partial quotation):
Construction of a multi-family apartment complex providing 325 dwelling units within 12 buildings on a 28.07-acre parcel. The complex will include a separate leasing office, clubhouse, and maintenance building, and two garages. Site development will provide paved parking, a graveled area for tenant RV and boat storage, and one paved access each to Canal Dr. and Monterey Ave.
The complex of 3-4 story buildings will be named "Altura" and is being developed by Kore/Amplo. No information has been found on Escambia County plans to improve the hazardous Perdido Key Drive/Canal Rd intersection likely to be used by residents of the new apartments. For more on the project, go to https://myescambia.com/our-services/development-services/development-orders/details/perdido-key-drive-multi-family; for a partial rendering of the 3-4 story apartment units, go to the Amplo website at https://www.amplocapital.com/projects.
Impact Fees and Santa Rosa County
Impact fees are typically one-time payments imposed on property developers for infrastructure/service improvements needed or desirable because of the new development; they can be passed on to home buyers. Education impact fees were approved by the Santa Rosa County Commission in 2020 but have been held up in court following a lawsuit by the Home Buildings Association of West Florida and several homebuilders. Based on comments by Santa Rosa Commissioners, infrastructure impact fees are expected to be "on the table" following the November 2022 elections. For more on the issue, see the October 25, 2022 Pensacola News Journal article "Better buy that house now. Impact fees discussion likely back in 2023 in Santa Rosa County" by Alex Miller at https://www.pnj.com/story/news/local/santa-rosa/2022/10/24/santa-rosa-county-impact-fees-likely-discussion-2023/10533725002/.
Unwinding Navy Point Oyster Reefs
Escambia County began an oyster reef project in 2017 in Bayou Grande at Navy Point where porous plastic bags of oyster shells were stacked to help mitigate beach erosion and foster the creation of oyster beds to filter water and help cleanup local waterways. A recent assessment concluded that few oysters were growing on the reefs and wave action was causing the bags to deteriorate. Long opposed by Navy Point resident and activist Melissa Pino, County Commissioners agreed to develop options to "unwind" the project, For more on this issue, see the October 7, 2022 Pensacola News Journal article "Amid safety and efficacy concerns, Escambia County may remove Navy Point living shoreline" by Jim Little at  https://www.pnj.com/story/news/2022/10/07/navy-point-living-shoreline-project-escambia-county-unwind/8205581001/.
E-Scooters in Pensacola
The Pensacola City Council has approved amending its micro-mobility ordinance to grant permanent status to its e-scooter rental project. Following a year pilot program, the scooters will be operated by Veo and feature only "seated" vehicles. For more on the issue, see the October 14, 2022 Pensacola News Journal/Yahoo article 'Permanent e-scooters win unanimous approval of Pensacola City Council" by Jim Little at https://money.yahoo.com/permanent-e-scooters-win-unanimous-125648738.html.
Halloweed at Gulf Islands National Seashore
Working with park rangers from Gulf Islands National Seashore, 12 volunteers helped identify, reduce and remove seeds from many beach vitex plants found on Pensacola Beach and the Naval Live Oaks facility. Beach vitex is an exceptionally resilient invasive species that propagates through small black seeds that float and can survive for months and by rhizomes (spreading roots). Some plants that had been previously cut and treated have finally died while others continued to thrive. Controlling and irradicating beach vitex is a multi-year process.
Advanced Recycling?
The plastics manufacturing industry will be building new recycling facilities using a chemically based technology to create a "circular economy for plastics," according to the American Chemistry Council – a plastic industry trade association. Environmental groups consider the project a distraction from the goal of producing and using less plastics. For more on the issue, see the October 21, 2022 Associated Press/Chicago Tribune article "The plastics industry says advanced recycling is a solution to the plastic waste crisis. But environmental groups disagree." by Jennifer McDermott at https://www.chicagotribune.com/nation-world/ct-aud-nw-advanced-plalstic-recycling-20221021-7yohlsmsevg7jgzodt43uqeeva-story.html.
Perdido Key Drive/Johnson Beach Road Roundabout Construction!!
Construction has been underway since September 2022 on the new roundabout at the intersection of Perdido Key Drive and Johnson Beach Road, which has been the site of substantial congestion when leaving Johnson Beach Road and considerable hazard because of rapid traffic on Perdido Key Drive. A six month estimate for completion of the project will take construction into March 2023. Workers present and detours around construction require particular caution from drivers; drivers choosing River Road to bypass construction should consider traffic regulations in that mostly residential area.
Infrastructure Updates
Sorrento Road – At its August 8, 2022 meeting the Florida-Alabama Transportation Planning Organization (TPO) raised the priority for widening Sorrento Road from 19 to 8, meaning it "will be eligible to receive state funding more quickly from FDOT in the next budget cycle." District 1 Commissioner Jeff Bergosh told TPO members "the Sorrento project is a critical public safety issue." Mike Kohler who will replace Doug Underhill as District 2 Commissioner has stated he would prioritize the expansion of Gulf Beach Highway and Sorrento Road. Work continues to resurface Sorrento Road south of the Bauer Road intersection. For more on the issue, see the August 10, 2022 13, 2022 Pensacola News Journal article "Sorrento Road widening now a top priority; Milton U.S. 90 widening stays the course" by Jim Little at https://www.pnj.com/story/news/local/santa-rosa/2022/08/10/sorrento-road-widening-moves-up-tpo-state-road-project-priority-list/10285418002 and the August 23, 2022 Pensacola News Journal article "Mike Kohler takes Escambia County District 2 Commission seat with Primary Win" by Benjamin Johnson at https://www.pnj.com/story/news/politics/elections/2022/08/23/mike-kohler-wins-escambia-county-commission-district-2-seat-primary-election-doug-underhill-seat/10349149002/.
Perdido Key Multi-Use Path – At its August 4, 2022 BOCC meeting, the BOCC approved an easement at the Johnson Beach Road/Perdido Key Drive intersection needed to connect the Johnson Beach Road path to a road crossover joining the Perdido Key Multi-Use Path. The easement was required because of the roundabout to be constructed at the intersection. Design and engineering for the Path from the west end of Perdido Key State Park to the Theo Baars Bridge is completed and $4.5 million of RESTORE funding has been received to complete the project. Construction will begin in November 2022.
Perdido Key State Park – Reconstruction of the Park's East and West Use Areas from Hurricane Sally damage is unlikely before 2023 in part because of delays related to excessive sand accretion at dune crossover locations. Until then, emergency repairs allow access to the West Use Area and Sharps Reef beach access locations.
Big Lagoon State Park – The main road on Big Lagoon State Park has been repaved removing the many potholes of recent experience. The governor's pavilion, amphitheater and other areas beyond the boat ramp remain closed from damage incurred from Hurricane Sally, but repair work is beginning. Volunteers recently helped repaint picnic pavilions in the boat launch area.
Tico the Brazilian Manatee
While Florida's manatees are struggling to survive with reduced food supplies, we are encouraged by following the 2500-mile journey of Tico – a rescued Brazilian manatee. For his great adventure, read the September 6, 2022 BBC article "Tracking Tico: Manatee rescued after frantic search" by Anselm Gibbs at https://www.bbc.com/news/world-latin-america-62792026.
A Great Holiday Party!
Perdido Key Association members, relatives and friends had a wonderful time at the annual PKA Holiday Party on December 13, 2021 at the Seafarer Condominium meeting room. Ample beverage and food were on hand and as usual all enjoyed Alan Dennis' marvelous meatballs. With the camaraderie of old and new acquaintances, the party had a wealth of holiday good cheer.
International Coastal Cleanup Day 2022!
On a beautiful September 17th, about 25 volunteers participated in a cleanup of Perdido Key beaches sponsored by the Perdido Key Association and Florida State Parks and supported by the Friends of Pensacola State Parks, Perdido Rotary Club and Perdido Key Chamber Foundation. The event was part of local celebrations of International Coastal Cleanup Day – a worldwide event for the past 35 years now held in over 150 countries. Trash collected during the event was deposited in a container provided by ECUA.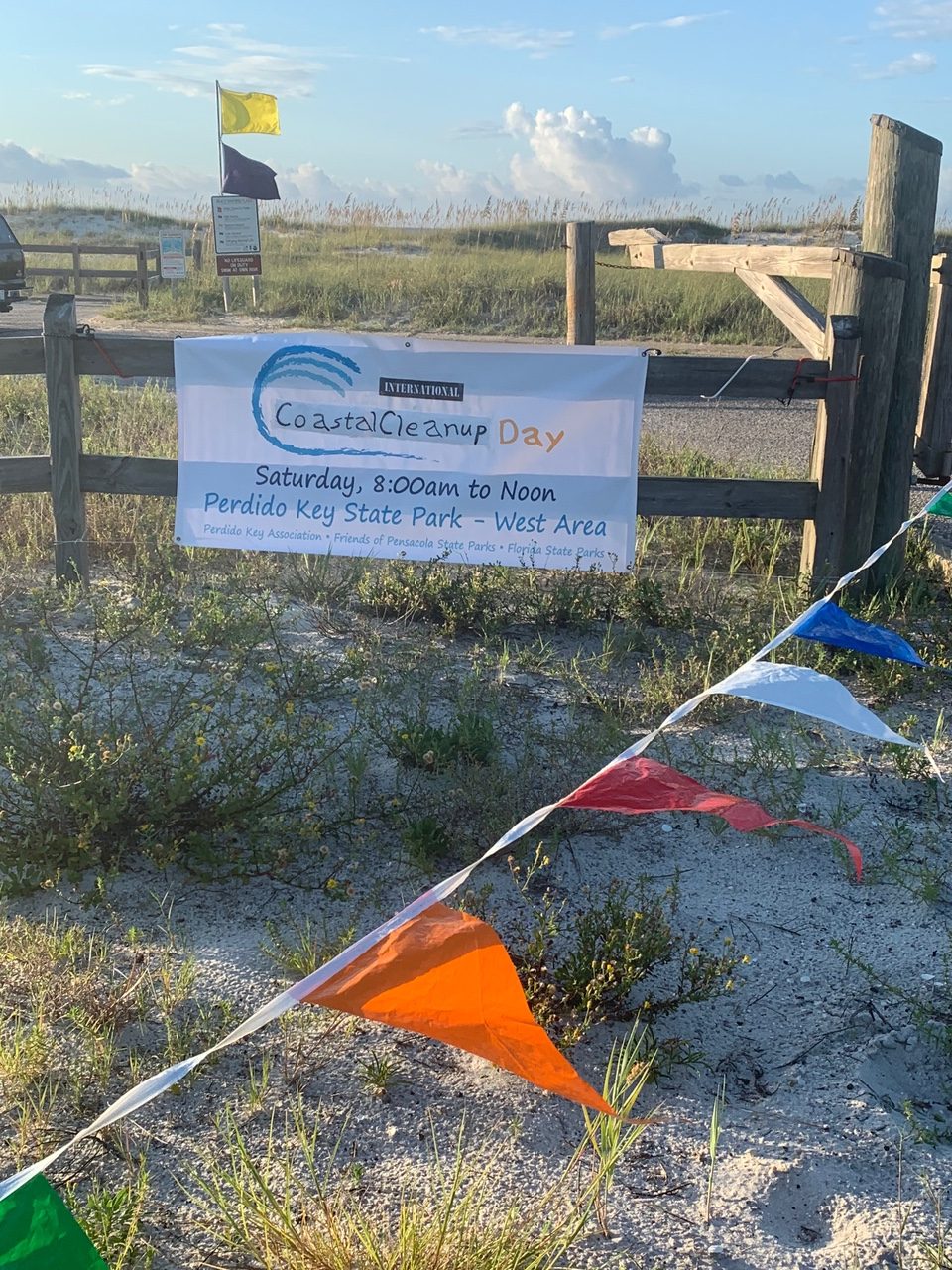 2022 PKA Annual Membership Meeting
The Perdido Key Association held its Annual Membership Meeting on February 19, 2022 at the Eden Condominium. Guest speaker Tim Day, Escambia County's Senior Natural Resources Manager, covered a variety of issues affecting Perdido Key including County efforts to acquire additional public beachfront parking and access, completion of Beach Access #4, resurfacing Beach Access' #2 & 3 parking areas and the status of the Perdido Key Master Plan. He noted construction of the roundabout at the Perdido Key Drive/Johnson Beach Road intersection was on track for completion by the beginning of tourist season, but the east portion of the Perdido Key Multi-Use Path might be delayed pending RESTORE funding approval by the US Treasury. He discussed the Perdido Key beach mouse and how the Perdido Key Habitat Conservation Plan balanced environmental protection with reduced time for construction permit approval. He also fielded questions from attendees including concerns about Perdido Key's shift from District 2 to District 1. Mr. Day's presentation was exceptionally informative and much appreciated – his PowerPoint slides are available on the Archive page of the PKA website.
PKA President Charles Krupnick then discussed PKA activities during 2021 including membership and survey initiatives, PKA participation in World Oceans Day activities and International Coastal Cleanup Day at Perdido Key State Park. He noted progress toward creation of "Preservation Park" with the installed solar windmill and Coastal Demonstration Garden along the Perdido Key Multi-Use Path, but also concern for golf cart use on the Path. With the installation of concrete utility poles, he still hoped for progress toward underground utilities on Perdido Key. Charles was concerned over the lack of damage repair progress from Hurricane Sally at Perdido Key State Park and Gulf Islands National Seashore (Johnson Beach) adding to challenges for beach parking and access in the coming tourist season. About thirty people attended the meeting in person and a similar number on YouTube.
World Oceans Day 2022
World Oceans Day is held every year on June 8 to celebrate the bounty and importance of our wonderful oceans. For those of us on the Northwest Florida and Alabama coast, our part of the oceans is the magnificent Gulf of Mexico! The UN theme for World Oceans Day 2022 is "Revitalization: Collective Action for the Ocean." Support is also requested for the 30×30 project where 30% of the oceans and 30% of land is protected by 2030. Currently less than 17% of land and 8% of the oceans worldwide are protected.
Perdido Key's World Oceans Day celebration at the Perdido Key Visitors Center was a considerable success. Families, other groups and individuals enjoyed the many ocean-themed exhibits and discussions provided by participants. Activities included a touch-tank of mollusks and other animals found in local waters plus a visit by a tiny owl from the Wildlife Sanctuary of Northwest Florida. The event also featured the opening of the Perdido Key Coastal Demonstration Garden adjacent to the Visitors Center. Organized by the Perdido Key Area Chamber of Commerce, personnel from many local, state and federal organizations contributed to this year's World Oceans Day event.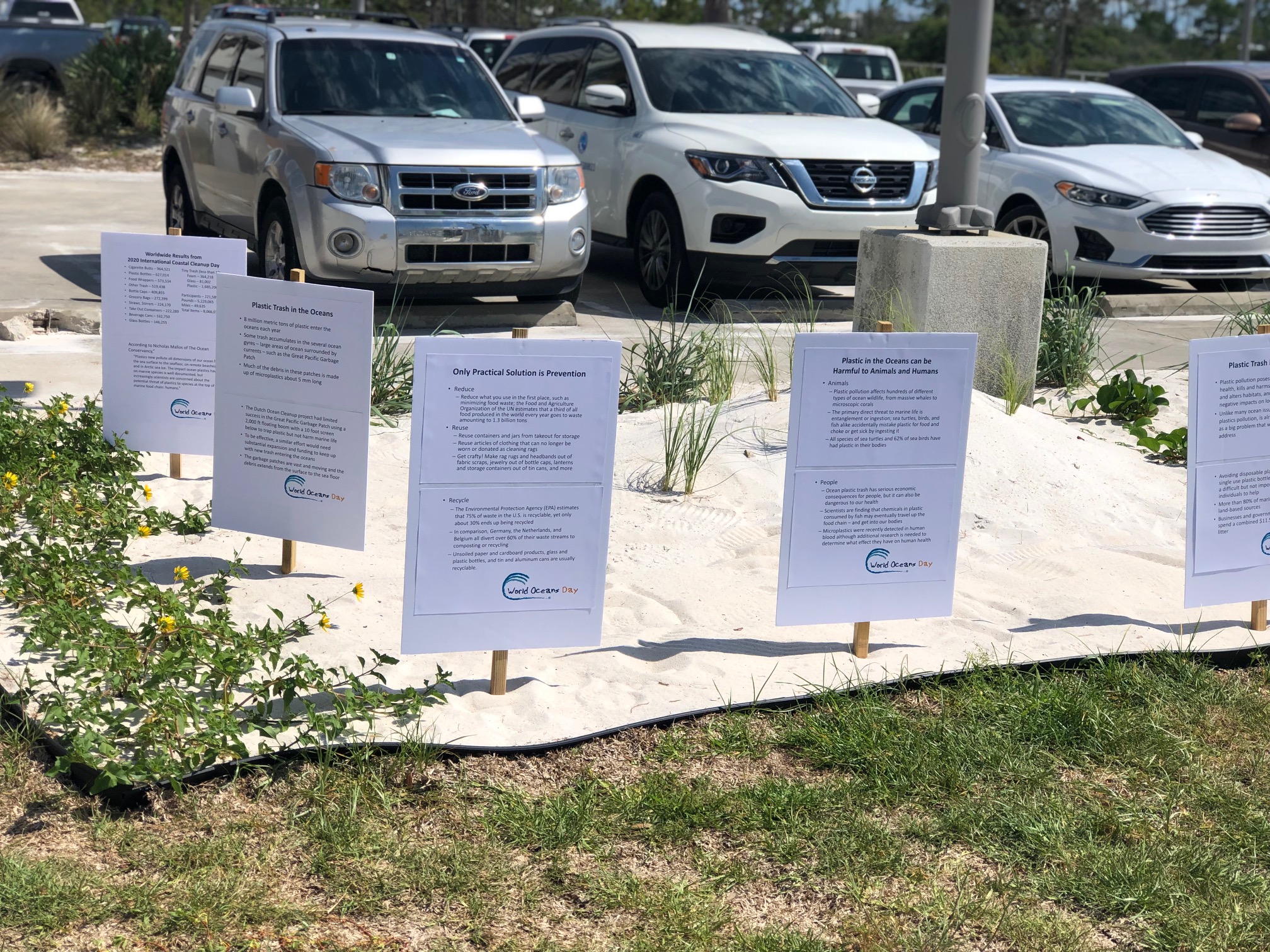 Did You Know?
If ocean shipping were a country, it would be the sixth largest producer of climate pollution globally? (Source: September 12, 2022 Ocean Conservancy e-mail)
Alaskan pollock, skipjack tuna, and Atlantic herring have the highest reported worldwide catch of the many species of fish sought commercially. A substantial amount of catch goes unreported, particularly for Alaskan pollock. (Source: Smithsonian Magazine September 2020 article "Chasing the Pirates" by Tristram Kortem).
Gulf of Mexico Whale near Extinction
The Gulf of Mexico or Rice's whale inhabits the northern Gulf of Mexico but has only recently been classified as a separate species. It is tragically near extinction with only 50 or so individuals remaining. For more on Rice's whale, see the October 13, 2022 Washington Post article "Scientists just discovered a new whale. Now they fear it may go extinct." by Bradly Lenis and Dino Grandoni at https://www.washingtonpost.com/climate-environment/2022/10/13/gulf-of-mexico-whale-rices/.
Alaska's Snow Crab and King Crab Seasons Cancelled
For the first time ever, the Alaska Department of Fish and Game cancelled the Bering Sea snow crab fishery for the upcoming season because of low stocks. The decline in available crabs has been described as 'shocking.' The red king crab fishery will also be closed as it was last year. For more on this issue, see the October 1, 2022 Alaska Public Media article "Bering Sea king and snow crab seasons canceled amid population declines" by Kirsten Dobroth at https://alaskapublic.org/2022/10/12/bering-sea-king-and-snow-crab-seasons-canceled-amid-population-declines/.
Gopher Tortoise Protection Denied
The gopher tortoise would continue to be considered a threatened species in parts of Alabama, Mississippi and Louisiana. Though threatened by habitat loss, the US Fish and Wildlife Service concluded increased protection was not warranted in Florida, Georgia, South Carolina and other parts of Alabama. The gopher tortoise has some safeguard under Florida law, but advocacy groups such as the Center for Biological Diversity have sought additional protection. For more on the issue, see the October 11, 2022 LocalToday article "Feds deny increased gopher tortoise protections" by Peter Barker at https://localtoday.news/fl/feds-deny-increased-gopher-tortoise-protections-in-florida-92035.html.
What is the Longest Native Snake in North America?
The Eastern Indigo Snake is the longest native snake in North America reaching lengths of 9 feet and weighing up to 11 pounds with a beautiful black iridescent sheen. Because they are non-venomous and docile, they can be used as pets. Though found in other parts of the state, they are rarely seen in the Florida Panhandle. For more on this wonderful creature, see the October 12, 2022 UF/IFAS Panhandle Outdoors article "The Eastern Indigo Snake" by Rick O'Connor at https://nwdistrict.ifas.ufl.edu/nat/author/lawrence-oconnor/.
Photo Credit: USDA Tim Mersmann